★★★★
Delightful Bedtime Bible Truths for Courageous Girls Will Encourage and Inspire.
Your courageous girls ages 5 and up will delight in these bedtime devotions and prayers created especially for their impressionable young hearts. Touching on topics important to them, girls will encounter dozens of just-right-sized readings that will both comfort and inspire. . .the perfect way to wind down at the end of a busy day. Every turn of the page features bright, colorful illustration alongside easy-to-understand scripture and Bible truths that will help build a strong faith foundation for life!
The twenty-six bedtime blessings are a perfect way to get your young daughter accustomed to fellowship with God at the end of her day. The format is similar to a devotional and includes a topic, a related Bible verse, reflection, and short prayer. Minus the illustration, each blessing is about one page long, so it will only add about 5-10 minutes to a bedtime routine, depending on the reflection time.
Each blessing begins with a cute illustration that includes diverse representation. This book could theoretically be used any time of the day, but some of the topics are night-time related, making it most suited for bedtime.
I'm not a fan of using the term "heavenly Daddy" for God, but I understand trying to convey to a child the intimate and loving nature of God, which is the feeling that the word "Daddy" conveys.
This post may contain affiliate links. This is my full disclosure.
This compilation of blessings lays a Christian foundation for young girls and encourages trust and faith in God. The Barbour Publishing Staff authors don't sugar coat hard truths for this 5 – 8 year-old audience, but are always encouraging. As an example, "That doesn't mean only good things will happen to you… even during the scary and hard things, nothing can keep God's love away from you."
I recommend this book for any parent (or grandparent) who wants to encourage their daughter to develop a personal relationship with God.
Our Christian Book Reviews:
The book reviews at Finding God Among Us focus on Christian books – adult and children, fiction and nonfiction. Our specialty is books on faith and new Christian book releases. We're proud to be included in the Top 20 Christian Book Review Bloggers. I chose to read this book in exchange for my honest opinion.
You might also enjoy:
If you like this book, you might enjoy these: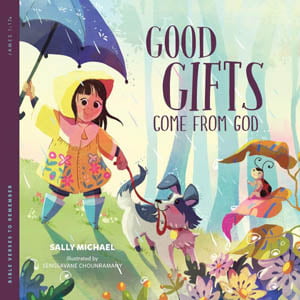 ★★★★★ Good Gifts Come from God helps preschoolers see all the good gifts God has given…