Give God Your Worries helps preschoolers learn how God takes care of his creation and especially them and to remember 1 Peter 5:7, "Cast all your anxiety on him because he cares for you."
God takes care of birds, animals, the sun and rain. He takes care of everything in his world. And he takes care of us, too. But we can sometimes be anxious or nervous. Jesus wants us to remember he cares for us and we can cast—or throw—our worries on him. In Give God Your Worries, Sally Michael helps parents, teachers, and caregivers to instruct the mind, engage the heart, and influence the will of children as they learn a new Scripture.
In the age of having children identify, name, and understand their emotions, Give God Your Worries addresses the typical emotion of anxiety – from a Christian perspective.
The verse to remember in this book is 1 Peter 5:7, "Cast all your anxiety on him because he cares for you."
While this might seem like a difficult concept to help a pre-schooler understand, author Sally Michaels walks readers through what it means and what it might look like to cast your worries on God.
The book reads like a parent or teacher might explain the concept, which naturally opens up the topic for more discussion. Michael's also includes additional information and tips for parents at the end.
The illustrations by Sengsavane Chounramany are delightful, colorful, and full of fun detail. The characters include racial and ethnic diversity.
Children will enjoy the variety of cute animals that are used as an example of how we can count on God to provide for us, as He provides for the animals.
Give God Your Worries is one installment of the Bible Verses to Remember series and would be a helpful addition to any classroom or family library, as worry and anxiety will be a topic to be addressed regularly for many children.
This post may contain affiliate links. This is my full disclosure.
Our Christian Book Reviews
The book reviews at Finding God Among Us focus on Christian books – adult and children, fiction and nonfiction. Our specialties are books on faith and new Christian book releases. We're proud to be included in the Top Christian Book Review Bloggers. I chose to read this book with no obligation for a review.
You might also enjoy:
If you like this book, you might enjoy these other Christian children's books.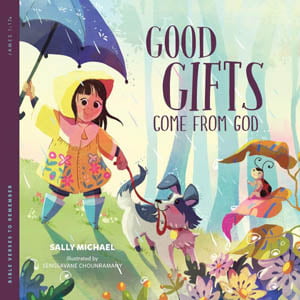 ★★★★★ Good Gifts Come from God helps preschoolers see all the good gifts God has given…
Give God Your Worries
Give God Your Worries helps preschoolers learn how God takes care of his creation and especially them and to remember 1 Peter 5:7, "Cast all your anxiety on him because he cares for you."
URL: https://amzn.to/3ZNLKxV
Author: Sally Michael
Author: Sally Michael
ISBN: 978-1645073437
Date Published: 09/19/2023
Format: https://schema.org/Paperback