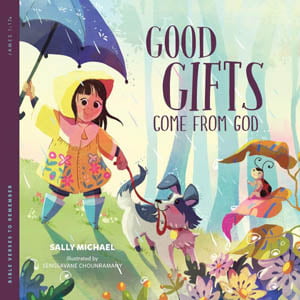 Good Gifts Come from God helps preschoolers see all the good gifts God has given them and to remember James 1:17: "Every good gift and every perfect gift is from above."
Every day God gives us good gifts to enjoy—family, friends, sunshine, hugs, smiles, and kind words. The greatest gift from God is sending his Son, Jesus to die on the cross for our sins. We should always thank God for his good and perfect gifts.
As one installment of the 3-part 'Bible Verses to Remember' series, Good Gifts Come From God is based on James 1:17. "Every good gift and every perfect gift is from above."
Author Sally Michael creatively unfolds the concept of God's gift-giving, beginning with a concept that children understand – gifts that come in boxes with bows. She then transitions to gifts that don't come in boxes with bows.
Michael explores gifts of kindness as well as gifts found in nature – all as being gifts from God.
As part of the 'Bible Verses to Remember' series, this picture book audience is listed on Amazon as 6-9 years old. While this age would be the appropriate age to start memorizing Scripture, the illustrations and content would be enjoyable and understandable for younger children as well.
Sengsavane Chounramany's illustrations capture the wonder of God's beautiful gifts that surround us. Little readers will enjoy finding all the little 'gifts' in nature that each page includes.
Parents and teachers will find helpful resources and suggestions at the end of the book to enhance their children's learning and understanding of this biblical concept – as well as others.
This post may contain affiliate links. This is my full disclosure.
Our Christian Book Reviews
The book reviews at Finding God Among Us focus on Christian books – adult and children, fiction and nonfiction. Our specialties are books on faith and new Christian book releases. We're proud to be included in the Top Christian Book Review Bloggers. I chose to read this book with no obligation for a review.
You might also enjoy:
If you like this book, you might enjoy these other Christian children's books.
Good Gifts Come From God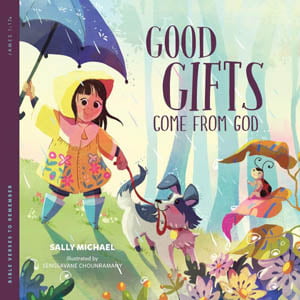 Good Gifts Come from God helps preschoolers see all the good gifts God has given them and to remember James 1:17: "Every good gift and every perfect gift is from above."
URL: https://amzn.to/3Q3WpjI
Author: Sally Michael
Author: Sally Michael
ISBN: 978-1645073451
Date Published: 2023-09-18
Format: https://schema.org/EBook