For years I was angry at the prodigal son, but I was SO wrong.
Ever since I was a young girl listening to scripture in church on Sundays, I always found the parables the most interesting. I was surprised by how often I came to the 'wrong' conclusion.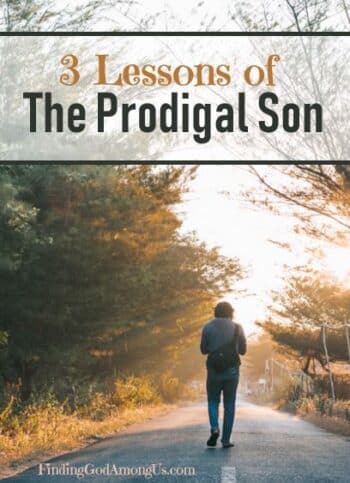 My most notable disagreement was with the prodigal son. I became frustrated each time I heard that parable. I associated with the good son, the one trying to do right, who worked hard, and showed commitment. He was trying to be a 'good' child of God.
So it irked me when the disrespecting rebel breezed back into town and received a big celebration.
In my heart, I felt dissed by God. If poor behavior was cause for celebration, what motivation did I have to be good? What if I ditched God and just showed up later and said, "I'm back!" instead of trying to be the good daughter all along?
It wasn't until years later that I finally absorbed the enormity of the lesson.
My question of "What if I ditched God and just showed up later instead of trying to be the good daughter all along?" was exactly the point!
I AM the Prodigal Son!
I AM the prodigal son. I'm the one who needs forgiveness. I'm the one who doesn't follow all the commandments all the time. My lengthy list of faults is living proof.
My vanity in associating with the 'good' daughter for many years was simply that – vanity. I need unconditional forgiveness from the Father in the same way the prodigal son did. How many times have I turned my back on God by putting Him second or third (or less) on my priority list? Or failed to treat my family or friends with the love I'm called to show? Or any number of other ways I've dissed God.
And I thought He was dissing me?
3 things I've learned from The Prodigal Son:
Since my revelation, three things have become perfectly clear.
Look Inside:
If you truly ARE the 'good' child, look no further than within your own heart. Are you happy with how the Father is treating you on a daily basis – by providing food and shelter, a job, a family? His unconditional love, comfort, and grace? I believe the answer would be YES for most people. God has given you all you need – and more. You are blessed.
Be grateful for those gifts. Holding a grudge against the prodigal son accomplishes nothing more than putting a barrier between you and God. Besides, one day it will be you needing forgiveness and you'll be thankful when He welcomes you back with open arms.
Know that He is waiting for you with open arms:
If you're the prodigal son, which we all are at some point due to our human sin, be grateful for the unconditional love and forgiveness that will greet you when you come back home. Make a concerted effort to curb further disobedience or disrespect.
It's only about you and God:
What I've realized the parable of the prodigal son is really about is living your life between you and God and not worrying about anyone else and their personal journey. Be thankful He's there for us when we follow Him and will always be there to welcome us back when we fail Him.
Carry the Lesson with You:
Whether you relate to the good son or the prodigal son, the lesson is the same. It's all about our personal relationship with God and recognizing that no matter our thoughts or actions, He loves us and welcomes us with open arms.
---
"In the end it is between you and God. It was never between you and them anyway."

Attributed to Mother Teresa
---
The Parable of the Lost Son – Luke 15:11-21:22 NIV
Jesus continued: "There was a man who had two sons. The younger one said to his father, 'Father, give me my share of the estate.' So he divided his property between them.
"Not long after that, the younger son got together all he had, set off for a distant country and there squandered his wealth in wild living. After he had spent everything, there was a severe famine in that whole country, and he began to be in need. So he went and hired himself out to a citizen of that country, who sent him to his fields to feed pigs. He longed to fill his stomach with the pods that the pigs were eating, but no one gave him anything.
"When he came to his senses, he said, 'How many of my father's hired servants have food to spare, and here I am starving to death! I will set out and go back to my father and say to him: Father, I have sinned against heaven and against you. I am no longer worthy to be called your son; make me like one of your hired servants.' So he got up and went to his father.
"But while he was still a long way off, his father saw him and was filled with compassion for him; he ran to his son, threw his arms around him and kissed him.
"The son said to him, 'Father, I have sinned against heaven and against you. I am no longer worthy to be called your son.'
"But the father said to his servants, 'Quick! Bring the best robe and put it on him. Put a ring on his finger and sandals on his feet. Bring the fattened calf and kill it. Let's have a feast and celebrate. For this son of mine was dead and is alive again; he was lost and is found.' So they began to celebrate.
"Meanwhile, the older son was in the field. When he came near the house, he heard music and dancing. So he called one of the servants and asked him what was going on. 'Your brother has come,' he replied, 'and your father has killed the fattened calf because he has him back safe and sound.'
"The older brother became angry and refused to go in. So his father went out and pleaded with him. But he answered his father, 'Look! All these years I've been slaving for you and never disobeyed your orders. Yet you never gave me even a young goat so I could celebrate with my friends. But when this son of yours who has squandered your property with prostitutes comes home, you kill the fattened calf for him!'
"'My son,' the father said, 'you are always with me, and everything I have is yours. But we had to celebrate and be glad, because this brother of yours was dead and is alive again; he was lost and is found.'"
---
So tell me…
Do you relate to the good son or the prodigal son? Tell me your story in the comments!
---
Other articles you might like: