Christianity is Facing an Authenticity Crisis…
Why do we feel the need to hide our struggles, doubts, and fears? Why is there sometimes a disconnect between our faith and our feelings? Why do we sometimes wonder, God, what are you doing? Are you even there?
For some, this comes from being handed a shame-based religion, for others, an image-keeping faith of rules and regulations. For others still, Christianity is a hamster wheel of performance. And this led me to realizing …
I can't do this anymore.
I can't pretend. I can't hide the battle we all face in living as sons and daughters of God in a fallen world. I can't deny that more than I'd like to admit, I live from an "orphan identity," stuck in a false narrative of a distant God. But there is another way, and I'd be honored to share it with you. Once you embrace who you really are, that's when the fun begins.
Right off the bat, you'll discover that John Hever's The Hidden Delight of God isn't going to be a preachy, dry read. As a matter of fact, he pours a foundation that many Christians can relate to, such as Who am I in the eyes of God?, What is my identity in Christ?, and What do I do when my faith goes stale? Some may call it doubt and others may call it fear, but many of us are trying to reconcile our identity as Christians and our relationship with God in one way or another.
Mr. Hever uses the Exodus story to convey the truths of God's mercy, love, and forgiveness. At once a history lesson, reflection guide, and Bible study, The Hidden Delight of God is an interesting, beautiful, soul-searching, God-seeking adventure. Each chapter ends with thought-provoking points to help the reader fully absorb, digest, and reflect.
We think of Moses as a Biblical hero, and he is, in many respects. But he was also a fallible human like the rest of us. Through his story, and God's faithfulness through it all, Mr. Hever makes parallels to our lives today. The circumstances might differ, but the core concept of finding our identity as children of God and trusting in His grace, forgiveness, and redemption transcend thousands of years.
Mr. Hever contends that our identity in Christ is worth fighting for, even if it takes a lifetime to learn, and I wholeheartedly agree. His book will lead you on that journey of discovery.
The Hidden Delight of God is an invitation to go deeper into your own heart and deeper into your relationship with God, with the ultimate goal of flourishing into the best you possible.
This post may contain affiliate links. This is my full disclosure.
Who would enjoy this book?
If you enjoy Biblical history, the Exodus story, or simply enjoy learning new things, you'll enjoy the historical aspect of The Hidden Delight of God. Whether you're struggling to forgive yourself, doubting God's love, or just seeking to draw closer, you'd find this book helpful for your journey.
How this book affected me:
I really enjoyed learning more about the Exodus story and absorbing the parallels to my own life. I loved the author's explanation of human hardships because we often struggle to reconcile life's difficulties with a loving God. He describes that fully absorbing the Gospel is a sacred transformation that really only happens in the darkness and God uses these circumstances to re-make us into the people we were intended to be. This is only one example of Mr. Hever's insightful, helpful, and hopeful guidance.
About the Author, John Hever:
John Hever serves as one of the pastors of H2O Church in Orlando, a church for the spiritually curious. Since coming to know Christ on the top of a mountain in Colorado, John has been a devoted follower and serial church planter. Despite the beauty of his mountain top experience, over his 40 years of following Christ he has seen many not-so-beautiful expressions of Christianity that are shame-based and guilt-driven. This has led him to embrace authenticity, brokenness, and vulnerability as his way of living out gospel through his weakness. Which means, most Sundays you will find him talking about his struggles and difficulties and failures in following Christ in a broken world. He received his master's degree through Reformed Theological Seminary.
Our Christian Book Reviews:
The book reviews at Finding God Among Us focus on Christian books – adult and children, fiction and nonfiction. Our specialties are newly released Christian books on faith and Christian picture books. We're proud to be included in the Top 20 Christian Book Review Bloggers. I chose to read this book in exchange for my honest opinion.
You might also enjoy:
If you like this book, you might enjoy these: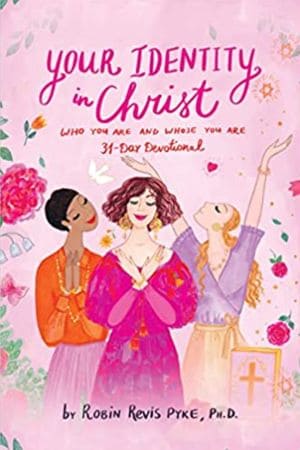 ★★★★★ At some point in their lives, many women may question who they are meant…