A rhyming, read-aloud book with warm illustrations conveys a comforting, faith-filled message from a Black father and mother to their children who see visual representations of their faith, but question what it means when they don't see their skin color, their physical features, or their gender portrayed.
"What about the angels, will they stop and stare, when they see that I may not have their same color hair?" asks the girl.
In soothing verse, the father assures his children that everyone looks like Jesus and the angels by the things they do. As the family walks through their neighborhood, the father points out the beauty in God's creations, from flowers, all unique and different, to all the children in their community "each with skin a different shade." He reminds his children that pictures of faith such as angels were drawn by someone and encourages his children to draw their own pictures so angels look like all of us.
Inclusivity and diversity are important Christian values that are the foundation of Chantel and Mauli Bonner's A Child of God. But more fundamentally and impactful is a message for those who don't "look like" the pictures of Jesus or the angels. How can children feel like they're made in the image of God if they don't feel they look like Him? A Child of God tackles those questions with excellent insight that would satisfy and soothe little learners.
This post may contain affiliate links. This is my full disclosure.
As a father explains these things to his two children, we see a diverse group of school friends that are used as an example of being a "family with different color skin." Morgan Bissant's illustrations bring a strong feeling of love to the reading experience.
The near-rhyme story flows pretty smoothly and covers a lot of topics fluidly. The satisfying, lasting message is of God's love for everyone. We are all children of God. A Child of God is perfect for teaching diversity, inclusivity, and Christian values.
Meet the Authors, Chantel and Mauli Bonner:
Mauli Bonner is a songwriter and film director from Las Vegas, Nevada. Chantel Bonner is a University of Southern California alumni and works as a Licensed Marriage and Family Therapist providing trauma-informed care to children in foster care.
The Bonners are dedicated to ensuring equality and justice among marginalized communities. In their spare time, they provide economic resources and musical outlets to underserved and disabled children internationally through their nonprofit, Lift Up Voices.
Meet the Illustrator: Morgan Bissant
Illustrator Morgan Bissant is based in New Orleans. She has always had an admiration for anything animated, and cartoons, comics, and anime have been some of her biggest inspirations. She started drawing as a child by copying cartoons and other things around her that she thought were cute. As she got older, she attended a professional art school, eventually deciding to pursue a career in illustration and design. She received a degree in Fine Arts at Louisiana State University. She focuses on characters with various skin tones and distinct features, seeking to bring ideas to life and inspire others through illustration.
Our Christian Book Reviews:
The book reviews at Finding God Among Us focus on Christian books – adult and children, fiction and nonfiction. Our specialty is books on faith and new Christian book releases. We're proud to be included in the Top 20 Christian Book Review Bloggers. I chose to read this book in exchange for my honest opinion.
You might also enjoy:
If you like this book, you might enjoy these other children's books: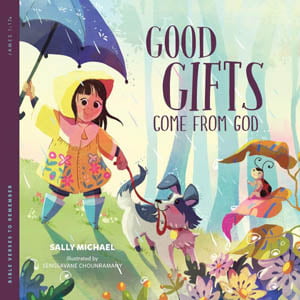 ★★★★★ Good Gifts Come from God helps preschoolers see all the good gifts God has given…