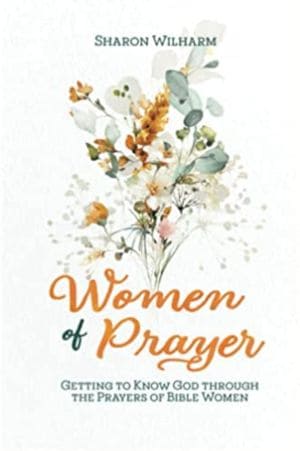 ★★★★
Get Excited About Spending Time with God!
Do you struggle with prayer? Do you worry that you're doing it wrong? Prayer should be the most natural thing in the world, but it's not. We make it far more complicated than it needs to be, primarily because we don't understand the character of God and how He works.
In this study you'll get to know God in a more personal manner as you delve into the lives of Bible women who walked and talked with Him. Through their interactions with God, you'll discover who He is and what it is He wants for you.
Author Sharon Wilharm's Women of Prayer promises readers will get to know God through the prayers of Bible women, but her book delivers well beyond that. Women of Prayer is much more than Biblical women's prayers and stories. Women of Prayer is full-on Bible Study.
Don't let the title fool you into thinking this will be a quick or simple read. Women of Prayer is intended for those who want to dig deep and be inspired by historical women. The reader is introduced to ten women of the Bible. The study of each woman takes place over the course of five days. The women include Hagar, Miriam, Hannah, the Samaritan woman, and Martha, among others. The five-day routine explores the women's stories in great detail, asks questions for retention and reflection, contains memory verses, encourages personal prayer, includes questions that relate the women's story to your life, encourages exploring and contrasting different Bible translations of the verses, and comparing and contrasting the women. It's a lot!
Wilharm includes a Leader's Guide for a formal Bible Study group. Women of Prayer could easily work for a less formal group study or a personal study. In addition, there's a list of resource materials listed at the end to assist with the study, as needed, or as interested.
Who would benefit from this book
Wilharm is clearly passionate about bringing the women of the Bible alive to women of today. For those who are looking to deepen their relationship with God through the study of Biblical women, Women of Prayer would be a great starting point.
This post may contain affiliate links. This is my full disclosure.
Our Christian Book Reviews
The book reviews at Finding God Among Us focus on Christian books – adult and children, fiction and nonfiction. Our specialties are books on faith and new Christian book releases. We're proud to be included in the Top Christian Book Review Bloggers. I chose to read this book with no obligation for a review.
You might also enjoy:
If you like this book, you might enjoy these other books to boost your faith.