One of the most notable Bible Verses about seeking God with all your heart is in Jeremiah:
 You will seek me and find me when you seek me with all your heart. Jeremiah 29:13 NIV

What Does Seeking Jesus Mean and Why Does it Matter?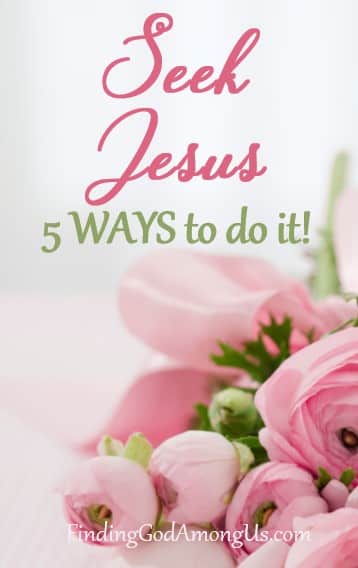 Seeking Jesus means making him the number one priority in your life.
God gives us an open invitation to an amazing relationship with him. In his fatherly love, he gives us the choice to accept the invitation or refuse it – known as free will. His door is wide open and it's up to us whether we enter.
As Christians, we might be tempted to gloss over this invitation and assume that we're already seeking him because we love him and generally follow the commandments. But there's so much more to seeking Jesus.
Searching for Jesus Bible Verses
The Bible repeatedly mentions seeking the Lord and the joys it brings. (BibleGateway is a great free online resource.)
One of the most notable Bible Verses about seeking God with all your heart is in Jeremiah, but there are many others. All taken from NIV version:
You will seek me and find me when you seek me with all your heart. Jeremiah 29:13
But if from there you seek the Lord your God, you will find him if you seek him with all your heart and with all your soul. Deuteronomy 4:29
Glory in his holy name; let the hearts of those who seek the Lord rejoice. 1 Chronicles 16:10
Now devote your heart and soul to seeking the Lord your God. 1 Chronicles 22:19
If you seek him, he will be found by you; 1 Chronicles 28:9
He did evil because he had not set his heart on seeking the Lord. 2 Chronicles 12:14
The Lord looks down from heaven on all mankind to see if there are any who understand, any who seek God. Psalm 14:2
The lions may grow weak and hungry, but those who seek the Lord lack no good thing. Psalm 34:10
What does Seeking Jesus mean?
Seeking Jesus is about pursuing a relationship with him. Christians can get lulled into being satisfied with their relationship with God. Seeking means actively pursuing more.
We can use human relationships as an example to demonstrate the concept. Let's compare your hypothetical relationship with your mother versus your sister's hypothetical relationship with her. You and your sister both love your mother.
You call your mom every few weeks, send her flowers for Mother's Day, visit her over Christmas and Easter. You take her to lunch for her birthday. You're a good daughter and you feel you have a good relationship with your mom. And you do.
But… your sister checks in with your mom every few days. She attends church with your mom. She vacations with your mom and brings coffee and donuts for their Saturday morning chats. She takes time out of work to drive your mom to the scary doctor appointments, even when your mom says she doesn't need it. She sends your mom silly texts.
Which one of you will likely feel closer to your mom? Which one of you will really know her better? Which one might feel more connected and fulfilled in her relationship with your mom?
You rest easy in your relationship with your mom. Your sister actively nurtures her relationship with your mom. She seeks it.
---
---
How to Find Jesus and Seek a Relationship with Him
We reap what we sow in any relationship and it's no different with God. As Christians, we love God. Maybe we spend the final waking minutes of our day in prayer. Maybe we go to church. We (mostly) obey the commandments. God loves us and we love him.
But when we seek him, we nurture the relationship. We don't say prayers by rote, we feel and mean every word, praying from the heart, speaking the words to him. We don't plan our shopping list or child's birthday party during the sermon, we actively listen. We make time for God – praying without ceasing. That means throughout the day. We fill our schedule around him, we don't try to squeeze him into our packed schedule. We make time to be still and listen. We meet him in the silence. We read his Word. We make God the priority that he should be. The more that we seek him, the more we come to know his voice.
Does it mean that Jesus loves those who seek him more than those who don't? No. Jesus is by our side no matter if we have our minds and hearts focused on him or not. The only difference is when we seek him, we hear and see what we'd previously been oblivious to. Seeking opens the door to a more beautiful relationship and it brings Jesus happiness also. He's waiting for each of us just beyond human comprehension. Open your mind and heart and find him there.
How To Seek God With Your Whole Heart
Have you ever prayed in desperation for a miracle? Maybe for a dying baby or after a loved one suffered a terrible accident? Seeking Jesus has that type of urgency, power, and relentlessness. The longing to really know Jesus comes from our deepest being.
Seeking Jesus is a journey into your heart and soul. It's nothing about the pomp and circumstance that comes with showing the world what a great Christian you are.
Just like there is no exact script for seeking a deep relationship with your mother, we choose the ways that make sense for us when we seek Jesus. The following five examples will get you started on your journey.
Looking for Jesus – 5 Ways to Get Closer
There's not a formula for growing closer to Jesus. Begin with these 5 Ways of Seeking Jesus to help you get started and then continue to grow from there.
1. Open your heart
As a fair exchange—I speak as to my children—open wide your hearts also. 2 Corinthians 6:13
Seeking is an exercise of the heart. There are almost no external signs when you're seeking. Close your eyes and rest quietly in a peaceful place in your mind's eye. Welcome God to join you there. Feel him there. See him there. Go deep inside and have a beautiful union with God in your heart.
2. Pray unceasingly
Pray continually, 1 Thessalonians 5:17
When you seek God, he's your first priority. You don't fit prayer into your day. You fit your day around your prayers. He's the first thought of the day, comes to mind throughout the day, and will be your companion during insomnia. Prayers are spoken from the heart directly to God. Imagine speaking the prayers directly to him. If you find yourself saying words without the meaning behind them, keep repeating until you've spoken the prayer by heart, not by rote. (Our Free Lord's Prayer or Beatitudes Devotionals can help you pray with intention.) Talk to God as if he's your best friend who happens to live in your heart.
3. Be still
He says, "Be still, and know that I am God – Psalm 46:10
It's in the stillness that Jesus meets us when we seek him. Make sure to give God a chance to answer you, to direct you, and guide you. He presents himself in the stillness. Be intentional about being still. Find a way to get close to God in your mind and heart. Speak to him and honor him and ask him to join you and guide you. Then stay still in that moment. If your mind drifts to your to-do list, pull it back and bring God back to the center. Don't be discouraged or stop seeking if you don't get answers or keep getting distracted. Just know he loves you and he's there waiting for you.
4. Read the Word
Consult God's instruction and the testimony of warning. If anyone does not speak according to this word, they have no light of dawn. Isaiah 8:20
God's Word was written to guide us and help us know him. Use it to seek him. When we seek Jesus, we spend time in the Word. We can experience Jesus intimately in Matthew, Mark, Luke, and John. But seeking Jesus is more than simply reading by rote. Seeking happens when we feel the message and receive it in our heart. Walk alongside Jesus in the Gospels. Don't just read the words. See what he saw and feel what he felt. If you find yourself skimming the words or reading without meaning or without it touching your heart, go back and read again until you make a connection with the words in your heart.
I find that the Parables of Jesus help bring us closer to understanding who he was and what God expects of us. You can check out the Life Lessons for you from the Parables of Jesus.
5. Find community in worship
For where two or three gather in my name, there am I with them. Matthew 18:20
A community can mean church, but it can be any community of Christians. Seeking takes place in the heart, so it seems illogical that seeking would involve a community. Community matters in seeking because it helps with accountability. Also the fellowship and music that generally accompany the Christian community can help give us the motivation we need to keep seeking.
Parables of Jesus Devotional Book – Coming Soon!
So tell me… How do you seek Jesus? When do you experience the deepest connection? I'd love to know in the comments!
Unless otherwise noted, Bible verses are from New International Version (NIV).
Featured Image courtesy of Juhasz Imre from Pexels.